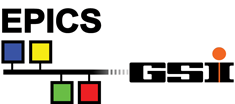 EPICS at GSI
Welcome to the home of
Epics
at GSI. This is a web-based collaboration area for documentation on EPICS infrastructure and projects at
GSI
.
---
EPICS @ GSI
EPICS login @ GSI
For running EPICS on GSI's central linux installations you need to initialize some environment variables and paths
NOTE

The purpose GSI's central linux installations is mainly twofold:

provide client features of EPICS
provide showcases and example server installations and applications

If you intend to use EPICS for your experiment or application, especially as server, it is recommended to install your own specific EPICS (base) installations:
---
Mail

Live

SB2 2.256 (P.Zumbruch) or Group: EE/KS

Phone

GSI-1435 (Secretary EE: -2527: (GSI +49-6159-71-0))
---
EPICS web pages
The center of gravity of EPICS is at APS, the
Advanced Photon Source
of the Argonne National Lab.
The
EPICS Home Page
at APS builds the home of EPICS, while it is not exclusively developed there, mind the collaborative character of EPICS.
Lectures / Training Materials / Basics
At the
EPICS home page
in the section
Training Materials
a variety of introductions and training courses is presented.
Personally I (PZ) recommend:
tech-talk
The
mailing list of the EPICS universe, which is very active and fast responding. If you have a problem, which is not solved, you might get help here. So,
some knowledge collections
---
---
---
---
---
---
more
.
---
more
.
---
---
---
EPICS
is already in production for the
HADES
SlowControl
System. A copy of this original web with more recent information can be found at
http://www-hades.gsi.de/scs
.
---
--
PeterZumbruch
- 2018-01-08---