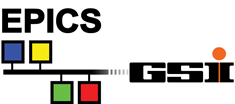 EPICS installations at GSI - Base installation
---
1 Preface
---
Up-to-now

All tools rely on bash shell scripting.
---
During installation those environment variables are used to define a common setup environment
ALL_EPICS_TOP_DIR

top directory which holds different EPICS versions and whose bin directory is included in $PATH (e.g. ~epics, /usr/local/pub)

EPICS_DOWNLOAD_DIR

directory where you store your downloads

EPICS_HOME

directory where your current installation should be (installed)

EPICS_VERSION

version to be installed
therefore do the export here:
# Global installation settings

echo -n

<All Epics Top Directory>

: && read ALL_EPICS_TOP_DIR && export ALL_EPICS_TOP_DIR
echo -n

<EPICS Home Directory>

: && read EPICS_HOME && export EPICS_HOME
echo -n

<Download Directory>

: && read EPICS_DOWNLOAD_DIR && export EPICS_DOWNLOAD_DIR
echo -n

<EPICS Version>

: && read EPICS_VERSION && export EPICS_VERSION
---
---
2 General Preparations
Following the corresponding
https://epics.anl.gov/base/R3-15/5-docs/README.html
(local copy)
section
Building EPICS base (Unix and Win32)
provided in the download area, which is titled
Installation Instruction
, do the following:
---
2.1 Checks
Check the supported compilers
Check the software requirements
*Software requirements of version 3.15.5*
GNU make

You must use GNU make, gnumake, for any EPICS builds. Set your path so that a gnumake version 3.81 or later is available.

gcc

You must have gcc version 3.4.2 or later.

Perl

You must have perl version 5.8 or later installed. The configure files do not specify the perl full pathname. You need the perl executable in your search path.
---
2.2 Create Directory and Download Sources
---
2.3 Setting environment variables
There are at least two major possiblities:
---
3 Additional Configuration settings
cross compile for a different target(/host) architecture you have to

change settings in $EPICS_BASE/configure

for cross compiler target architectures change CROSS_COMPILER_TARGET_ARCH in $EPICS_BASE/configure/CONFIG_SITE

add additional setup script calls in $EPICS_HOME/myepicslogin.sh
---
4 Compile
Setting up the environment
$> cd $EPICS_HOME && . epics -H $(dirname $PWD) -P "" $(basename $PWD)
Following the instruction the
README
file, but using GSI make (which is GNU make) type: (+ multicore parallel build)
$> cd $EPICS_BASE && make distclean && make -j 8
Finally to add new paths to PATH etc.
$> cd $EPICS_HOME && . epics -H $(dirname $PWD) -P "" $(basename $PWD)
4.1 Obstacles
up to base 3.14.10

lib(n)curses

On some system you might face the problem that the compiling stops, due to the missing library libcurses.
For an (elegant) solution see the EPICS tech-talk threads:
---
4.2

Compact - Compile
make_epics()
{

cd $EPICS_HOME && . epics -H $(dirname $PWD) -P "" $(basename $PWD) &&
cd $EPICS_BASE && make distclean && make -j 8 &&
cd $EPICS_HOME && . epics -H $(dirname $PWD) -P "" $(basename $PWD)

}

make_epics
---
---
5 All

Compact
download_epicsBase()
{

mkdir -p $EPICS_HOME

&&

cd $EPICS_HOME &&
which bzr >/dev/null 2>&1 && bzr checkout --lightweight -r tag:R${%EPICSBASE_VERSION_NAME%}% lp:epics-base/3.15 base-3.15.5"

if[ $? -ne 0 ];

then

fi &&

cd $EPICS_HOME &&
groups | grep -q -w epicsadm && chgrp -R epicsadm $EPICS_HOME &&
find $EPICS_HOME -user $(id -n -u) -exec chmod ug+rw {} \;

&&

cd $EPICS_HOME && ln -s -b base-* base

}

install_epicsScript()
{

[ -d ${ALL_EPICS_TOP_DIR:?"undefined"} ] && mkdir -p ${ALL_EPICS_TOP_DIR}/bin

&&

mkdir -p ${EPICS_DOWNLOAD_DIR:?"undefined"}/bin &&
cd $EPICS_DOWNLOAD_DIR/bin &&
wget -N -nv --no-check-certificate https://wiki.gsi.de/foswiki/pub/Epics/EpicsInstallationsAtGsiBase/epics &&
cd ${ALL_EPICS_TOP_DIR:?"undefined"}/bin &&
cp -i $EPICS_DOWNLOAD_DIR/bin/epics ${ALL_EPICS_TOP_DIR:?"undefined"}/bin && :

&&

if [ "$(id -u)" -eq 0 ];
then
ln -s -b $ALL_EPICS_TOP_DIR/bin/epics /usr/local/bin
else
[ -d ${ALL_EPICS_TOP_DIR:?'undefined'}/bin ] && export PATH=ALL_EPICS_TOP_DIR}/bin:${PATH}
fi

}

install_epicsloginSh()
{ }
install_SiteProfile()
{

mkdir -p ${EPICS_DOWNLOAD_DIR:?"undefined"}/Base/startup &&
cd $EPICS_DOWNLOAD_DIR/Base/startup &&
wget -N -nv --no-check-certificate https://wiki.gsi.de/foswiki/pub/Epics/EpicsInstallationsAtGsiBase/modify.Site.profile.7z &&
cd ${EPICS_HOME:?"undefined"}/base/startup &&
{ [ -f unix.sh -a ! -f Site.profile ] && cp unix.sh unix.sh.org$(date +%d%m%y) && mv unix.sh Site.profile && ln -s unix.sh Site.profile; : ; } &&
[ -f Site.profile ] && { ls | grep -q Site.profile.org && mv $(ls -tr1 Site.profile.org.* | head -n 1 | xargs) Site.profile; :; } &&
cp Site.profile Site.profile.org$(date +%d%m%y) &&
7z x $EPICS_DOWNLOAD_DIR/Base/startup/modify.Site.profile.7z &&
mv Site.profile Site.profile.main &&
perl -pi modify.Site.profile.pl Site.profile.main &&
ln -s -b -s -b Site.profile.wrapper Site.profile && :


}
install_MandatorySoftLinks()
{

cd ${EPICS_HOME:?"undefined"} &&
[ -f ${ALL_EPICS_TOP_DIR?:"undefined"}/bin/epicslogin.sh ] && ln -s -b $ALL_EPICS_TOP_DIR/bin/epicslogin.sh . || echo "epicslogin.sh" not available 1>&2
[ -f ${ALL_EPICS_TOP_DIR?:"undefined"}/bin/fcn_addtopath.bash ] && ln -s -b $ALL_EPICS_TOP_DIR/bin/fcn_addtopath.bash . || echo "fcn_addtopath.bash" not available 1>&2
[ -f ${ALL_EPICS_TOP_DIR?:"undefined"}/bin/uniqpaths ] && ln -s -b $ALL_EPICS_TOP_DIR/bin/uniqpaths . || echo "uniqpaths" not available 1>&2

}

install_myepicslogins.sh()
{

cd $EPICS_HOME && wget -N -nv --no-check-certificate https://wiki.gsi.de/foswiki/pub/Epics/EpicsInstallationsAtGsiBase/myepicslogin.sh

&&

cd $EPICS_HOME &&
perl -pi -e 's/^.*epicslogin\.sh -v.*$//g' myepicslogin.sh &&
cd $EPICS_HOME &&
echo -n -e "myepics_home=$EPICS_HOME \n" >> myepicslogin.sh&&
echo -n -e " . \$myepics_home/epicslogin.sh -v -H \$myepics_home -B \$myepics_home/base -A \$myepics_home/fcn_addtopath.bash $(basename $EPICS_HOME) \$([ -f \$myepics_home/base/startup/unix.sh ] && echo -P \$myepics_home/base/startup/unix.sh) \$* \n\n" >> myepicslogin.sh &&
echo -n -e "unset myepics_home \n" >> myepicslogin.sh&&
cd $EPICS_HOME && . ./myepicslogin.sh

}

make_epics()
{

cd $EPICS_HOME && . epics -H $(dirname $PWD) -P "" $(basename $PWD) &&
cd $EPICS_BASE && make distclean && make -j 8 &&
cd $EPICS_HOME && . epics -H $(dirname $PWD) -P "" $(basename $PWD)

}

download_epicsBase && install_epicsScript && install_epicsloginSh && install_SiteProfile && install_MandatorySoftLinks && install_myepicslogins.sh && make_epics


---
--
PeterZumbruch
- 2018-01-25