How to change your GSI Linux (Kerberos) password
For the impatient
Obtain a Linux command line (eg. on a lxg… or ssh lx-pool.gsi.de)
Enter passwd
You will be prompted for your current Kerberos password and for your new password (twice)
Detailed Instructions
Step 1: Access to the command line ...
... from Linux
If you are working on any GSI
Linux
machine (hostname begins with
lx...
) with a graphical user interface you only have to open a command line window (
terminal
), e.g.
konsole
for KDE or
xterm
. The corresponding button in the KDE panel looks like a monitor, simply click on this icon.
... from Windows
If you are working with
Windows
you'll have to open a session to a Linux machine via
ssh
using a
Secure Shell Client
. The following screenshots show the usage of
putty
: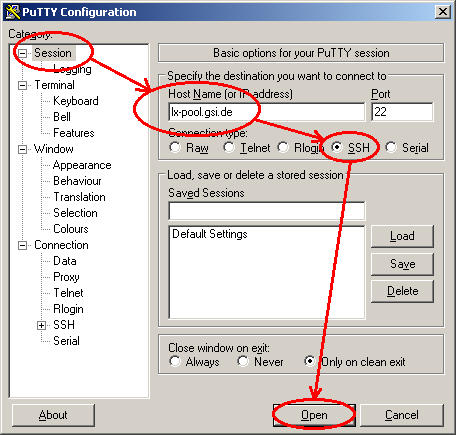 To start a connection you'll have to enter
lx-pool.gsi.de
as the "Host Name", then click on the button
Open
. In the console window you can enter your Linux account name and your actual (i.e. old) UNIX/Linux password (see screenshot for
Step 2
below).
Step 1.5: Accepting the server key
If you are connecting to a ssh server
for the first time
you'll have to accept its ssh key. To ensure that the target belongs to the host group
lx-pool.gsi.de
you may compare its fingerprint with the value on
this page
, then click
Ja
,
OK
or any corresponding button of your Windows client. For Linux clients you'll have to type
yes
and hit [Return].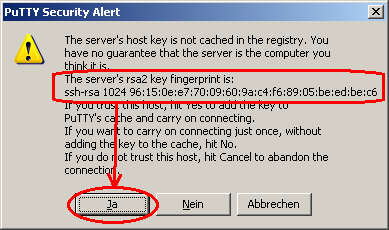 Step 2: Change your password on a Linux-machine
Use the command
passwd
There are password conditions on these machines:
At least 10 characters
At least 3 of the following 4 character classes:

English uppercase characters (A through Z)
English lowercase characters (a through z)
Base 10 digits (0 through 9)
Nonalphanumeric characters (e.g., !, $, #, %)
Step 3: Close the session
Don't forget to close the command line session after finishing your work. You can logout by typing
exit
and pressing [Return]. In case of remote sessions the network connection is terminated also.
Q: I've forgotten my old UNIX/Linux password, how can I reset it?
A: Please contact the
UserHelpDesk
(SB3 1.247, -2515). Q: My proposed new password isn't accepted, why that?
A: You have to fulfil the password-rules stated in
Step 2
. Q: How can I create a "strong" password?
A: Have a look at
this website
.