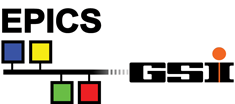 Docker Based Ioc Adc Readout Of 4 To 20 m Aon Odroid Or Raspi
Introduction
Idea of C.Wendisch / HADES: Objektive: Readout 4-20mA current loop with a mini-computer (e.g.
RasperryPi
, Odroid, ...) with an included docker-based IOC for field operations
First Ansatz:
OWADC1

Power Cable (ordered at EEL students lab)

Odroid

Docker Implementation of EPICS

e.g. panda-ioc or mvd-ioc

Usage of StreamDevice protocols to interface HadCon,

already available in "several HadCon IOCs of HADES"

database implementation

big enough "PC" could also have its own, small archiver implementation, either

cs-studio, phoebus
archiver applicance
...
future: repository git.gsi.de/HADES/DCS/IOC or git.gsi.de/EPICS
---
--
PeterZumbruch
- 2020-02-20