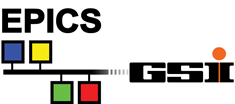 step-by-step - EPICS installations at GSI
---
... on user account epics on Linux sarge system
On the Linux system at GSI there are:
an user account epics to provide the space to store this installation, a login is practically '_never_' foreseen. (I meanwhile even forgot the password)
two groups:

epicsadm for general installations
epicsusr for user specific installations
---
GSI Prerequisites
Things you have to prepare and conditions you have to fulfill before being able to start any installation for the general GSI installations ...
more
.
---
---
Linux x86/x86_64
---
Installation of the EPICS base distribution:
---
Testing of base installation with makeBaseApp.pl
---
Extensions
Installation Status
Prerequisites for Extensions
Extensions directory structure
Before installing any kind of extension/application
you have to install extensionsTop_YYYYMMDD.tar.gz for version 3.14 and higher
Extensions Top -- (2018-09-21)
The extensionsTop_YYYYMMDD.tar.gz gnuzipped tar file contains the extensions/configure directory, top level Makefile, the src directory and src/Makefile.
The src/Makefile knows all the standard EPICS extensions directory names and can build any that are present in the correct order for dependency resolution. To use an extension with a specific version number in its directory name, edit the assignment statement so the right hand side of the assignment exactly matches the name of the subdirectory containing that extension. For example:
Edit the DIRS definition in the Makefile to change the order of building (the wildcard at the bottom removes any directories that don't exist from the list).
---
optional Alternatives to gcc @ GSI
---
optional XMOTIF - X-Motif Settings (05 Nov 2013)
---
%MSI_TITLE% -- Version: %MSI_VERSION% (%MSI_LAST_CHANGE_ON%)
Installation
Compact
Download address: %MSI_DOWNLOADADRESS%
Documentation

%MSI_DOCS_TITLE%
.
-- %MSI_LAST_CHANGE_BY% - %MSI_LAST_CHANGE_ON%
---
ALH - Alarm Handler -- Version: 1.2.33 (26 Aug 2013)
Installation
Documentation

ALH Users Guide - alh1.2.15 through alh1.2.31
.
---
CaSnooper - Channel Access Broadcast Monitoring Tool -- Version: 2.1.2.3 (26 Aug 2013)
Installation
Compact
Download address:
https://epics.anl.gov/extensions/caSnooper/index.php
Documentation

CASNOOPER User Guide
.
---
%EZCA_TITLE% -- Version: %EZCA_VERSION% (%EZCA_LAST_CHANGE_ON%)