Remote Desktop Connections with X2go
X2go allows graphical remote connections to our
central interactive clusters
comparable to the Windows Terminal Server access via
CitrixReceiver
.
Why should I use X2go?
To get rid of the prehistoric
VNC
or commercial solutions like
X-Win32
we recommend to use the open source program
X2go
for graphical remote login on Linux hosts. This product offers many advantages:
No server side configuration or interaction required.
Better performance especially via WAN connections.
Dynamic resizing of the imported desktop.
No license issues.
Automatic tunneling via ssh (TCP port 22).
The server part (for exporting the desktop) is installed on all desktop systems using Wheezy or later, e.g.
lx-pool.gsi.de
, clients (for displaying the desktop) are available on all machines running Squeeze or later.
Computers with Windows may install the x2goclient package via the Software Center.
How do I use X2go?
Start the client
On Linux hosts you may enter the command
x2goclient
or use the corresponding menu entry:
KDE4: K → Applications → Internet → X2Go Client
XFCE: x → Internet → X2Go Client
Create a connection
You'll have to create at least one connection for using X2go.
In the tab "Sitzung" (session) you may enter a reasonable session name in the field "Sitzungsname".
You'll have to enter the host name of the remote system and your remote user name in the fields "Host" and "User" and keep the default port number 22.
If you're using a key pair for ssh connections (see SshUsage) you may check the corresponding box "Anmeldung …".
For login with your Linux password please leave the box unchecked.
At last you may choose your session type in the pull-down menu "Sitzungsart". KDE is the default setting, if you prefer XFCE, then choose the corresponding menu entry.
Finally save your connection settings by clicking the OK button.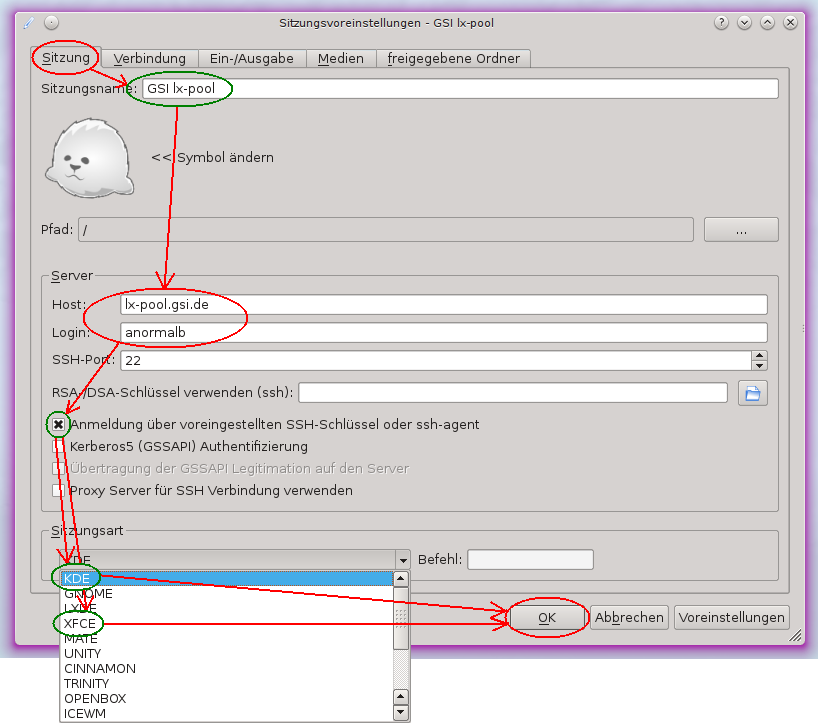 Start a connection
Click on one of your available connections. If you are using it for the first time, you may have to accept the ssh key of the remote host. Depending on your authentication method you may be prompted for your password or the secret for you private ssh key. The server will start the graphical session and a new window will appear granting you access to the remote desktop.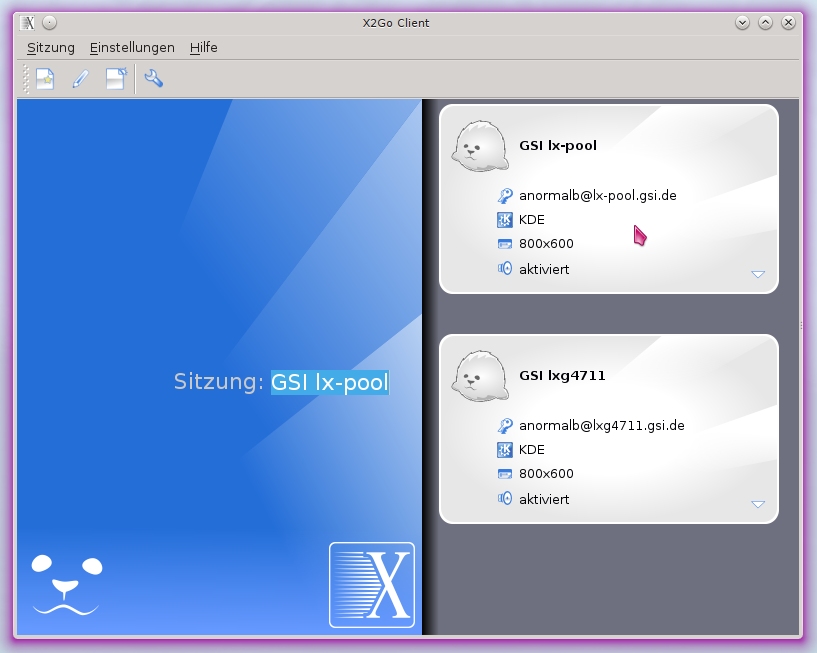 Close a connection
To end a remote session you'll have to log out from the remote desktop, e.g.:
KDE4: K → Leave → Log out
XFCE: x → Log Out

Closing the session window without logging out keeps the session running, so you may reconnect to this session later.

Leaving a session open is only useful when connecting to a dedicated machine. If you're using a pool like
lx-pool.gsi.de
with DNS round-robin the next connection may take you to another member of the host group, where you'll have to start a new session.
To pick a single machine from a pool like
lx-pool.gsi.de
you may run the command pipe
host lx-pool.gsi.de | ip2host
to get a list of available hosts.
Miscellaneous
Host key problems
It seems that some versions of x2go doesn't support the new ECDSA host key algorithm yet (see
bug#240
), so the connection will fail with a error message:

As a workaround you'll have to delete the ECDSA host key from your
known_hosts
file using the command
ssh-keygen -R {servername}
and add the old RSA host key instead with
ssh -oHostKeyAlgorithms='ssh-rsa' {servername}
Shortcuts:
Ctrl - Alt - F

Toggle between fullscreen and window mode
--
StefanHaller
,
ChristopherHuhn
- 2014