Rules for Access to the CRYRING Cave
--
EstherBabetteMenz
- 2022-03-10
more detailed instructions
.
Required safety training modules
The trainings are completed online and the following training modules must be completed and annually renewed for CRYRING cave access:
General radiation protection instructions + annual medical exam and dosimeter with QR code.
Instructions for access to the AEBs (Enclosed Electrical Operating Areas)
CRYRING instructions
General safety instructions
General laser safety instructions - if working with or near lasers
GSI employees

have to contact their supervisor to assign the required training modules.
Guests

can self-register for the required training modules. Additionally,
If you have a dosimeter from your home lab, please bring it with you when traveling to GSI. In this case you will receive only a QR code to attach to your dosimeter. Please check your home lab regulations concerning flying with a dosimeter. Please also bring a record of your last medical exam and a confirmation of your lifetime dose from the radiation protection department in your home lab (ideally, your radiation passport).
If you need a new dosimeter, medical exams need to be performed on campus by our medical services, but in this case you will need to allow at least few days for the lab results to come back.
Please request your medical exams, QR code and/or dosimeters here.
Cave Status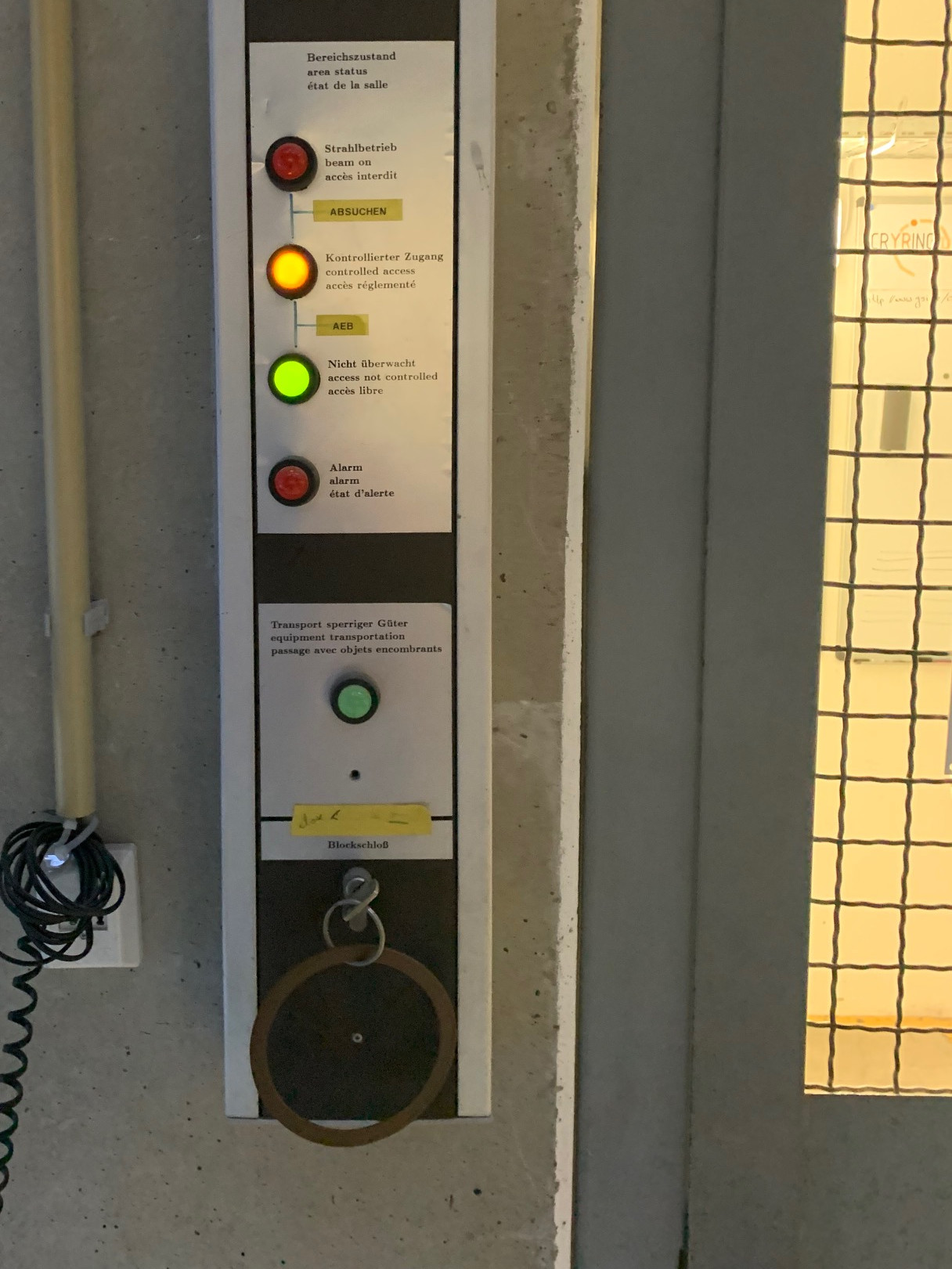 The hazards and the resulting rules for access at the CRYRING cave depend on the status the cave is in. The status is indicated by the "traffic light" at the cave entrance.
green
access not controlled
access through the door (with a key) or the access lock (with a valid QR code)
red
beam on
no access
yellow
controlled access
access possible via the access lock with a valid dosimeter
yellow + green
enclosed electrical area ("AEB")
access through the door (with a key) or the access lock (with a valid QR code)
red + yellow
search
access only for radiation safety team to search the cave
Indicator
Status
Meaning
Personal Emergency Alert System
When work in the cave has to be carried out alone (e.g. during night shift) the personal emergency alert system has to be used in addition to staying in contact with colleagues in the control room. The alert system consist of a device similar to a walkie-talkie which is worn on the belt and reacts to being tilted into a horizontal position. When being triggered it will emit a warning tone and, if this is not deactivated by the wearer, it will alert gate security to a potential accident. To use the alert system take one of the devices from their station in the cave entrance (to the right of the notice board), turn off the test tone by pressing the red button on top and attach it to your belt in a vertical position.
See also